One of the most easiest desserts you can make at home with readily available ingredients. This brownie is fudgy in texture and is completely Gluten Free, Vegan, Dairy Free and also Free from Refined Sugar! This literally took just 2 minutes in the Microwave and 2 minutes to prepare. So anytime you crave something sweet, you can make and eat this almost immediately. And what's more fun is that you can make personalised mugs of brownie for everyone!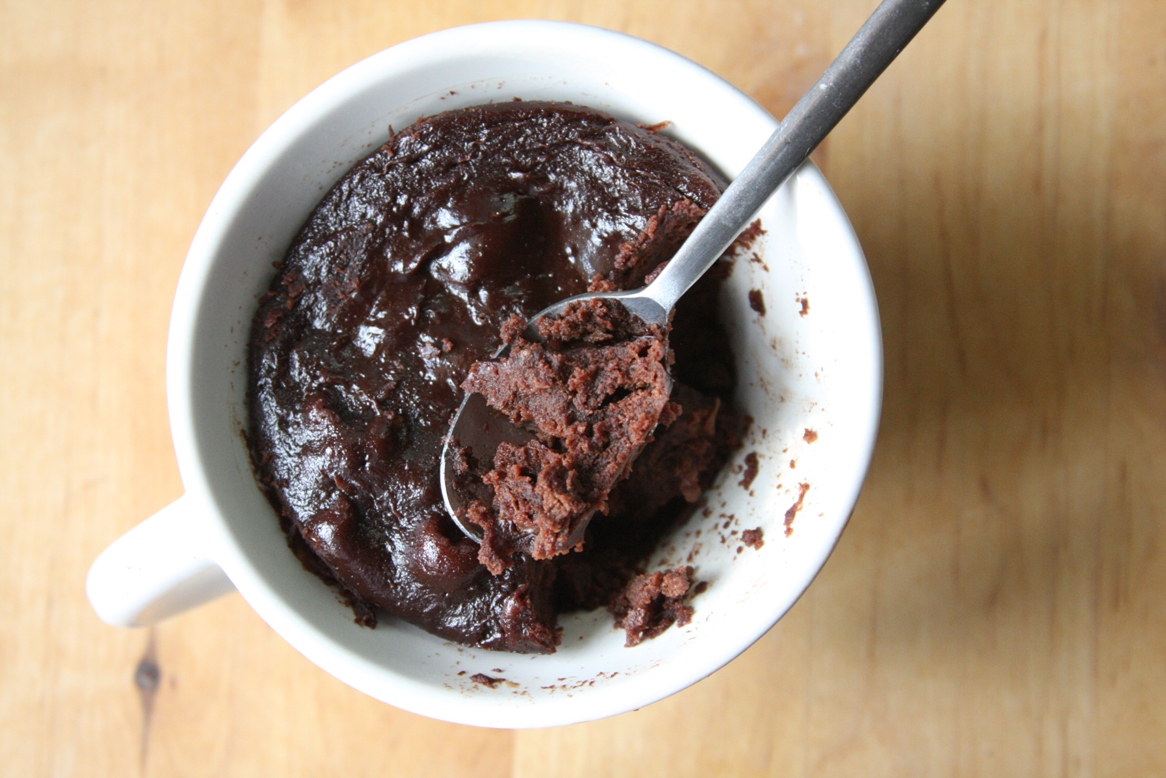 INGREDIENTS
1 Tbsp Unsweetened Cocoa or Cacao Powder
1.5 Tbsp Oats Flour/Almond Flour/ Gluten after Flour
1 Tbsp Jaggery Powder /Erythritol Powder /Pureed Dates/ Honey
1/2 Tbsp Olive Oil
1.5 Tbsp Water
METHOD
Take a tea cup that's microwave safe.
Add Unsweetened Cocoa Powder. You can use Cacao Powder instead.
To make Oats Flour at home, simple take rolled oats and dry grind it into a smooth powder in a mixer-grinder. I normally grind the powder in bulk and store in an airtight container. Now add the oats flour in the cup. You can use almond flour instead. Just like oats flour, grind dry almonds in the mixer into a powder. You can use any other flour as a replacement.
Now add Jaggery Powder. This is easily available in the market. You can also use honey instead or those with insulin resistance or diabetes can use natural zero calorie sweeteners like Erythritol.
Now add oil. Use any neural flavoured oil like Olive Oil. You may also use melted butter.
Now add water to this. If you are using honey, reduce or skip water. Mix well. The consistency of the mixture should be dense but still pourable. Make sure everything is mixed well.
Now pop this into the microwave. I made 4 mugs, one for each member of my family.
Set the timer for 1.5 or 2 minutes.
Take it out of the microwave carefully.
Allow it cool down completely.
Enjoy your healthy, tasty, quick guilt free dessert anytime you like! Best served with ice-cream or some fresh strawberries 🙂

Share this recipe with your family & friends. Do comment below if you tried this ❤

Follow my blog to receive updates on email. Subscribe to get a free copy of my ebook on Top 10 Indian Kitchen Hacks.
ABOUT ME
CHECK OUT MY INSTAGRAM HANDLE FOR MORE SUCH STORIES
LOVE . LIGHT . HAPPINESS . PEACE
Divyashree Mangalorkar Gupta


TRAVEL & FOOD ENTHUSIAST
6 Countries & many more to go
Mumbai, India