This is such an interesting recipe! Who doesn't love potatoes? And if it's got tanginess with a little bit of spice in every bite, you'll love this even more, won't you? I made this recipe when I had a few extra boiled potatoes in the fridge and had to come up with a quick recipe to pack for lunch. What's your excuse?
INGREDIENTS
2 Potatoes
2 Tomatoes
1/2 Cup Green Peas
1 Tbsp Mustard Oil
1 Tsp Cumin Seeds
1 Green Chilli
1 Tsp Ginger Paste
1/2 Tsp Kashmiri Red Chilli Powder
1 Tsp Turmeric Powder
1/2 Tsp Garam Masala
1/4 Tsp Asafoetida Powder (Hing)
1/4 Cup Coriander Leaves
1 Tbsp Dry Fenugreek Leaves (Kasoori Methi)
Water as per requirement
Salt as per taste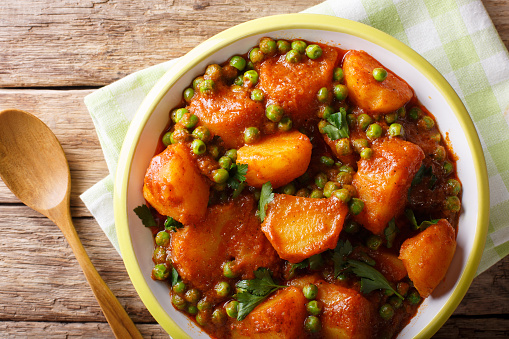 METHOD
Heat a pan with Mustard Oil until it starts to smoke.
Splutter Cumin Seeds.
Add one chopped Green Chilli along with Ginger paste and saute for a few seconds . You can also
Now add the chopped Tomatoes along with a little Salt.
Saute and cook until the tomatoes become soft and mushy.
Now add all the spice powders : Asafoetida Powder, Turmeric Powder, Kashmiri Red Chilli Powder and Garam Masala. Adjust the quantity of spices as per taste.
Now add Green Peas and cook for 2 more minutes.
Now add the chopped & peeled boiled potatoes. If you don't have them boiled already, you can shallow fry them in oil after you add in the cumin seeds and saute until they are cooked entirely. Transfer to a plate and add them back in at this stage.
Now add a little water and salt if required.
Cover & cook for a few minutes until the potatoes soak in some of the flavour and till you reach the desired consistency.
Add chopped Coriander Leaves and Dry Fenugreek Leaves. Mix well.
Serve hot with roti, rice or puri.
ABOUT ME
CHECK OUT MY INSTAGRAM HANDLE FOR MORE SUCH STORIES
LOVE . LIGHT . HAPPINESS . PEACE
Divyashree Mangalorkar Gupta


TRAVEL & FOOD ENTHUSIAST
6 Countries & many more to go
Mumbai, India