Sometimes when I know I won't have time to make breakfast for myself in the mornings (note that I cook separate meals for the family), I prepare this the previous night and relish the next morning. They take 5 mins to set it up, which makes this one of the easiest and quickest breakfast options you can prepare overnight.
Chia seeds, as most of you already know are loaded with protein and fibre. They are nutrient-rich super seeds with very few calories, making this an ideal weight-loss breakfast option. Also these seeds are rich in Omega-3 Fatty Acids, so Vegetarians and Vegans, you must include these protein rich seeds in your regular diet.
Since they bulk up when soaked in liquid, it keeps you feeling full for longer duration, so even a small cup of this pudding is quite filling. This pudding fulfills all the criterias for Keto, Paleo, Anti Inflammatory, Gluten Free, Sugar Free, Lactose (Dairy) Free, Vegan and Diabetic Friendly diets!
INGREDIENTS
3 Tbsp Chia Seeds
150-200 ml Coconut Milk
Erythritol or Stevia as per taste
1 Tbsp Water
10-12 Dried Blueberries
8-10 Chopped Almonds
Fresh Berries/Mint Leaves (Optional)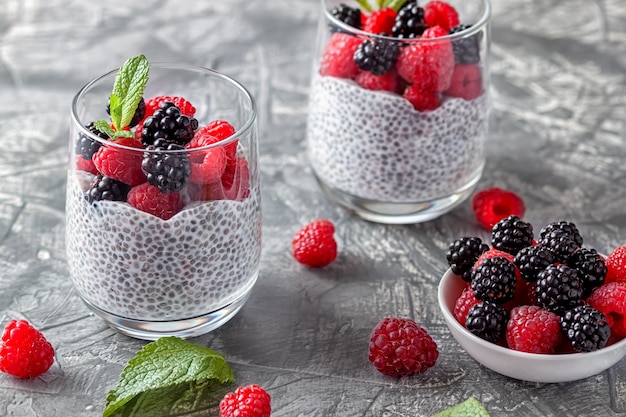 METHOD
Take any small glass container.
Pour 3/4th coconut milk into this. I use a store bought 200 ml tetra pack that's just pure unsweetened coconut milk. So I use as much as I need and save some for later. Store any remaining coconut milk in the refrigerator.
To this add the sweetener of your choice. I like to use a mix of Erythritol and Stevia.
Mix this well to dissolve the sweetener well with the coconut milk.
Now add the Chia Seeds and mix again.
Add some Chopped Almonds and Dried Blueberries. These are optional but try to add them. They will enhance the flavour and texture of this pudding.
Also add a little bit of water to this. Chia seeds will puff and absorb all the moisture, so we want it to remain at least a little soft the next morning.
Now just give this a good mix.
Keep it on the counter for 10 mins. Give it a mix, taste test for additional sweetener.
Now store this in the refrigerator overnight. You don't need to cover this.
Next morning, take it out. You'll see it's gotten thick.
Add the leftover coconut milk. Add more sweetener if you wish to.
If you want this to look pretty, top the pudding with some fresh Raspberries, Blackberries, Strawberries and/or Mint Leaves and enjoy cold!
ABOUT ME
CHECK OUT MY INSTAGRAM HANDLE FOR MORE SUCH STORIES
LOVE . LIGHT . HAPPINESS . PEACE
Divyashree Mangalorkar Gupta


TRAVEL & FOOD ENTHUSIAST
6 Countries & many more to go
Mumbai, India